I'm think insect as in bee, wasp. She's doing just fine now. Ya know Pegasus had the same thing happen but by the time I got him to the Evet, his tongue was swollen & he had welps all over him. She never got that far. I'm sure glad I took off work early that day.

9/25/2011
Ya'll keep ViviAnn and her brother Stewey in your prayers tomorrow. Both are going to Dr B's for "alterations". Then I will pick them up on Tuesday and then this coming weekend they'll take a trip to St Louis where they'll be adopted. Several people are interested in Stewey, but when they see ViviAnn and how small she is, how sweet & loveable she is, they may forget Stewey is standing there.
They came from Darren Henry's kennel & he treats his pups like royalty. They retired to the farm to wait on space available in St Louis. When I took Vivi to the vet last week for bee stings, the vet couldn't believe Vivi had not raced for several months, she said this girl is still in racing form, she was 1 lb over her racing weight at 58 lbs.
I'm going to post this picture, its not for the faint at heart. This happened today & its not my fault.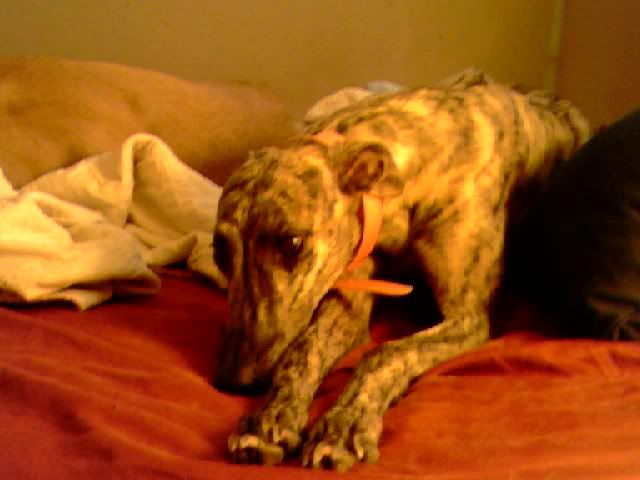 It was Smiley's fault, he got between me & her & she couldn't get any momma love so she jumped on the bed, liked what she saw & that was the end of that.