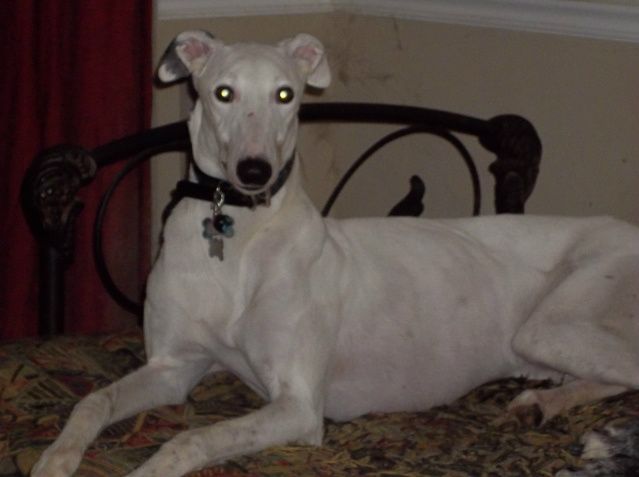 Well I thought I had posted about Danger. I got him the day after Pipi went to the bridge. It was helpful in that I didn't have time to stop & think abou the what ifs. You all know what I mean. The only thing, she was white & he is white, so I'd catch a glimpse of him in the corner of my eye & for a 1/2 second...my heart would stop...only to realize it was Danger instead of Pipi.
He has been alot of fun.
He dropped a muscle coming out of the starting box & went right to the kennel. They turned him over to Cheryl, who has a doggie door. Well thats not a good idea when you're trying to heal him. So he came to my house & was allowed to lay around all day....and night.
Turns out he's going to Florida in May. We're waiting alittle while before we neuter him, he's a cryptorchid & we're concerned that the hidden testicle could be in that muscle. Thurles' was in his thigh. Luckily my vet, Dr Blackburn is the expert vet in the Memphis area when it comes to cryptorchids. So I will take him on the morning of the 21st and pick him up on the 22nd and then we "think" he'll go on a hauler the middle of May.