Oh yeah...thats the best way to keep people from climbing in or out. This particular bush got toppled over I think it was last spring...we must've had a "baby" tornado come through one night because my neighbor's apple tree fell through the fence, knocked over my holly bush. So her ex-roomie who is my lawn lady, and her husband came over & fixed the fence, cut down the apple tree & cut down my holly tree. Well evidently holly trees come back (take note Tom)...cause now I have another holly bush.
That's the same holly tree that Gogh went straight out the back door at 4:30am one morning, straight to the bush & came out with a bird. One of those bird in the bush things. he he he
This morning Kandy has been alittle restless. I wish I had some place to take her & let her run, I may put her & Smiley outside with muzzles on & let them have a good run. Oh never mind, she's gone to sleep now. Puppies......


January 24...



Bless her heart...when she first came to my house she wasn't afraid of the laminent floors & was afraid of the cats. Now its just the opposite.
Last night I was mopping the kitchen floor & of course I had Gabby & Kandy helping, and Smiley watching.
I always start at the laundry room door & come across so I can escape out of the kitchen w/out walking on the wet floor.
So I mopped the corner & I noticed Kandy standing by the refrigerator. I mopped some more, Kandy's still there. Her head was down & then I noticed her paws spread out flat...as if she was hanging on to the floor. She's never exhibited fear of the kitchen floor, its vinyl...so when I called her to me, she leaned against the lower cabinets, the refrigerator & when she got to me, she squeezed between me & the cabinets, finding the dry floor before escaping out of the kitchen.
She's so dang cute.


February 14, 2011

Kandy left this morning for the next leg of her journey.
They started her heartworm treatment & Chery called & said she went by there around lunch to pay her bill & they said she was doing great.
Cheryl called right before closing time & they said she was eating her dinner. She is a food hound.
So the next step is Cora will pick her up in the morning & take her to her place & start her quiet time. Cora is an expert with heartworms, seizures & cancer dogs. Being at home 90% of the time helps. When she's not home, Cora's husband Tom is home.
After that, then Kandy will move on to St Louis & Rescued Racers. Hopefully either her sisters Kate or Kassie's families will want to adopt Kandy.
I'm going to RR's reunion in June, so I'm hoping to get to see her. And get part of my heart away from her that she took with her this morning.




February 15, 2011 3:29pm

I got an email this morning from Cora, she called the vet & they told her she could pick up Kandy tomorrow (Wednesday).
She didn't ask why...
Well I thought maybe she is like BuyCuty & Smiley were during their treatments, ran a fever.
So I called just now. His receptionist said they went ahead & gave her the 2nd treatment & its made her back sore. So he gave her something for the pain, and he wants her to be kept quiet. So he said she could go home tomorrow. Bless her heart...all of this & she didn't even get a cool tatoo either.
I promised her that the end of her journey would be really great.




February 17, 2011

Talked to Cora, she said Kandy is doing good. She has to keep her crated, which Kandy didn't mind. She said she's sleeping, eating & taking her meds good. Yaaay

MAY 7, 2011
I tell ya between storms, friends in the hospital, work & fosters...I'm forgetting my updates.
The only relaxation I've had lately is going to watch Thurles race.
HOWEVER....Little Kandy came back to stay at my house for a week. She has been adopted, in Missouri by a wonderful lady & her husband who also adopted Maywood.
They lost their senior of course to that
cancer & were looking to adopt to help with the healing. It was suggested that they take a look at Kandy & so she emailed me & I told her all about both Kandy & Maywood.
Cheryl & I moved them last Sunday during a thunderstorm to Rescued Racers (an adoption group, not a rescue group) in Missouri.
I am happy to say they love both of them & couldn't be happier. Kandy loves the lady...she's alittle timid with the husband, but Maywood loves both of them.
Here are some pixies that Cherl took on Easter.
Kandy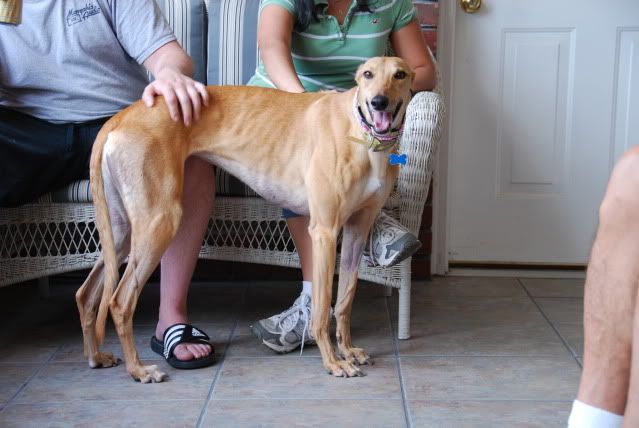 Maywood