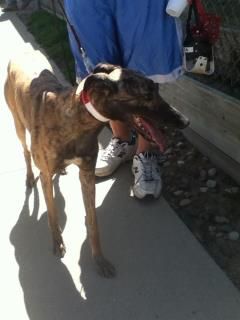 Last October some friends who have racing greyhounds asked me to think of a name for their female pup named Hilda. So I came up with DC Heehoo Gough. Named after me & my precious puppy Gogh who passed away of bone cancer.
Sight unseen...all I knew was she was going to be a year old in November (2011) and going to race at Dubuque IA.
Wanda & Dennis sent me some pictures of her on the farm, and she is so cute.
She's recently started her racing career & it didn't take long for her to win her offical schooling and now she's in her maiden. She hasn't broken it yet, but I'm having fun watching her on line.
Today Erin Owens, who owns my beloved Ethan, was at the track & snapped a picture of Hilda for me. Imagine my surprise! I sent the picture to Dennis & Wanda....
Its fun to watch them race, but the whole time my heart is beating.....all I want is for them to have fun, race clean & when its over, their tails wagging & ready for their dinner & a cool drink of water.


I think these were taken at 12 months on the farm...